10 February, 2020


Very helpful and great service happy with our jellycat bunnies 😊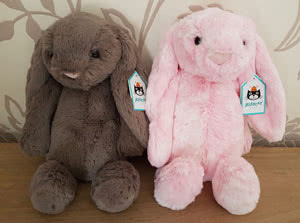 Amanda Jane



30 January, 2020


Super happy with my purchase.
Thanks so much Fleurtations...
My little girl is 3 in May. She has had a jellycat bunny since birth. Her other was looking very worn and tired...
Super quick delivery has just been and i have a super excited girlie...xx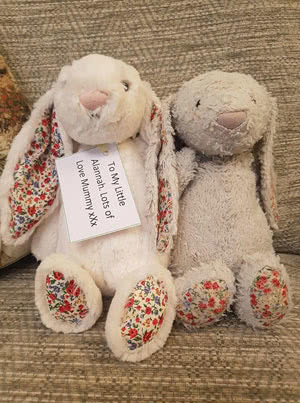 Caroline recommends Fleurtations
Wakefield UK



4th December, 2019


Thank you for your honest business.
I ordered a toy via your website a week ago and it just arrived today.
The selection on your website is ample, I found what was not in stock in the other shops, and prices are lower than in many other places I saw on the web.
Delivery was fast. Very smooth and pleasant purchase.
I wish you all the best and will come back soon.
Best regards.
Nikita Nikitin



30th October, 2019


Subject: Re: Jellycat Order
Thankyou for your excellent service and efficiency in processing this order.
Thankyou for making my darling granddaughter, so far away in New Zealand, a very happy wee girl, helping to keep the magic of Christmas alive.
With very warm wishes
Linda Argent 🎄🎅🏼



28th October, 2019


Subject: Unicorn and princess bag
Dear Diane
I have just received the bag which I am delighted with and want to thank
you for your help with my order!!
As I am not a frequent on line shopper you put my mind at ease.
I am sure my little granddaughter in Australia will love it.
Thank you so much
From a very happy customer
Violet
Sent from my iPhone



15th October, 2019


Subject: Jellycat Bonbon
Hi Diane,
Thanks for the customer care. Of course I am happy to wait, and my granddaughter will be away for a couple of weeks over half term.
Be a lovely surprise when they get back.
Cheers Diane. Impressed with my first dealings with Fleurtations
Best wishes,
Cathy
Sent from my iPad



24th September, 2019


Subject: Elves
Hi I just wanted to say that your elves look so magical and that my
grandchildren and every child/adult would love them at Christmas time
Sent from my iPhone
Valerie



20th September, 2019


Subject: Thanks!
Hello fleurtations,
I just wanted to say a huge Thankyou for my bunny- I ordered a jelly cat medium twinkle bashful bunny, and I'm over the moon with it! Your prices are great, your p and p is sensible,
and I'm going to order regularly from you as I've started to collect bashful bunnies now! You are a really honest and lovely company.
Just wanted to say a huge Thankyou, and best wishes
☺️Laura Pritchard x
Sent from my iPhone



30th March 2019


Hi , I just wanted to say thank you for my recent order.
The items are beautiful and it was a quick delivery and hassle free.
I am so impressed that I have just put another order in (for presents from my terminally ill husband to give to our daughter when he has gone).
Thank you so much, I know that she will treasure them.
Big loves ❤️
Julia Whitby
Sent from my Huawei Mobile



09th February 2019


Subject: Jellycat
Hi
Just to say thank you so much for the prompt delivery of my order for a Jellycat Lovely Llama, a present for my granddaughter's 7th birthday.
It's beautiful, and I know she will be thrilled with it!
Thank you again, I shall definitely order from you when I need anything similar.
Kind regards
Ellen Richardson
Sent from my iPad



22nd December 2018


Subject: Jellycat hit
This "Odette" lives in Houston, Texas (USA) and is very much a member of the family .... as you can clearly see!
Alexandra Gibson Moses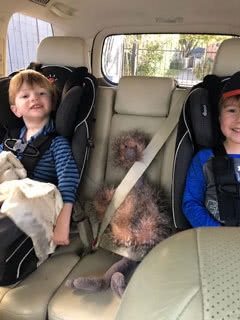 10th December 2018


Subject: Re: RE: Enquiry about Fleurtations
Thank you!
I have received him. A very lovely lobster! I love it so much!
Agatha





8th December 2018


Subject: Re: Fleurtations Order Number
Hi,
Odette arrived today and is super cute!
Thanks Sara
Sent from my iPhone



7th December 2018


Subject: Testimonial
Hello,
Please add this to your website:
Thank you so much for the jellycat shark which I received 2 days after ordering it.
I had searched all high street stores to no avail and it was the only thing my son wanted from Father Christmas!
Not only was the ordering straight forward with free, fast delivery you also sold it cheaper! I will be back on your website very soon I'm sure.
Thank you so much and kind regards
Rachael Morris
Sent from my iPhone



25th November 2018


Hello,
We received the fleur mouse, thank you very much !
To be honest I was a bit surprised. I'm in your debt, I hope everything will be fine next time so I can pay you for your outstanding services!
Best regards,
Romain



28th October 2018


Thank you for sending Georgie. Walt is very happy.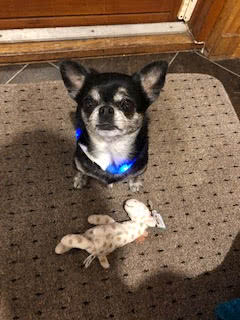 From: Iona MacLeod
Sent from my iPhone



24th October 2018


Hi
Thank you so much for the great service and brilliant communication. We received our order today as promised which means our little girl with have her toy to take to hospital with her tomorrow. >
I am quick to criticise when something is not done when promised so it's only right that I commend a company when something is done correctly, so thank you once again for all your help.
I will have no hesitation in purchasing from you again in the future.
Kind regards
From: Duncan Ramsden.
Sent from my iPhone



13th September 2018


Just wanted to say that I have placed 2 orders with you in the last two weeks, and your service has been impeccable.
Well done, and thank you so much,
From: Susan Hider



04 September 2018


Wow, that was fast!
I have just received the monkey, great service!
Gold medal for you guys :)
From: Clari Garrido Lobo



26 November 2016


Thank you!!!
Margaret Conway
Sent from my iPhone



28 November 2016


Thank you so much! I just received it today!!
It is just what I wanted, my granddaughter has had a white kitty similar since birth & due to the loss of a real black kitty she has wanted a black stuffed one for a yr!
I knew Jellycat was nice & saw your offer, it's PURRFECT!!! 😻.
Thank you!!!
Margaret Conway
Sent from my iPhone



25th November 2016


Ah Tian, bless you! What a lovely email, thanks so much. Great news about Lenny!
They are just gorgeous. My daughter received one for her birthday and its so nice I thought I'd investigate the collection.
I think my kids will be very happy this Christmas when they discover them all.
And I'll know where to come for future additions to our collection, you've been an absolute pleasure to order from.
Have a great weekend too and no doubt we'll cross paths again soon :-)
Best wishes
Lisa



19th November 2016


Good Morning,
Regarding my prior email my sincerest apologies as the item had arrived.
However the item was placed in my garden without my knowledge with no delivery note through the door, my partner happened to find it this morning.
Due to the item being well packaged it was perfect so many thanks.
kind regards,
Bethany Cragg



18th November 2016


Thank you Graeme excellent customer service will look forward to getting mumble!
Kind regards
Victoria
Sent from my iPhone



18th November 2016


Hi,
I also wanted to say what great customer service I have received from you.
Compared to others that I have received lately this have been excellent, thank you.
Kind regards
Amanda



15th October 2016


Hi there,
Parcel is here safe and sound!
Thank you once again for the speedy delivery! The bear is perfect for my sisters little one!
Many Thanks!
Louise Campbell
Sent from my iPhone



17th September 2016


I've got a huge bushful beige bunny this morning; so adorable!
Everyone who sees jellycats falls in love with them and asks me to get one for themselves.
So I'll make another order soon. Thank you very much for Jellycat
Kyoko Ui
Twitter Review



18th August 2016


Subject: Thank you for bushful bunnies.
Dear Becky
Thank you for having delivered my Jellycat's bushful bunnies for me safely.
I received them this morning.
They are absolutely as adorable as every other Jellycat's mates. I love all of them.
I'm leaving Japan for the U.K. next week.
I look forward to visiting your beautiful country.
Best regards,
KYOKO UI
iPhoneから送信=



18th August 2016 18:23


Hi
I received today my order and I love it!!
Thank you so much!
I will recommend to my friends and will buy again.
Thank you very much!
Clarissa
Israel



15th August 2016 13:20


Thank you for your prompt reply and resolution.
It is nice to deal with an honest, customer-centred company.
Thanks,
Amy :-)



12th August, 2016 05:25


Dear Becky,
I've got my parcel of Jellycat's Fern Fawns.
They're absolutely adorable!
Even though I bought them for my older sister and her friends, I just don't want to give the Fawns to them....
Thank you so much.
Everyone in my family loves Jellycat's, my 15 years old nephew as well.😊
Kind regards,
Kyoko Ui
iPhoneから送信



26th July, 2016


Subject: Bunnies have arrived
Hello
I just wanted to let you know that the bunnies from both of these orders have arrived safely, and to thank you for your excellent customer service once again.
The bunnies are much loved, and we are so grateful to be able to get them across the pond. You guys are great!
Thanks again
Best
Claire Stott
Ottawa, Canada



24th June, 2016


Hello Diane and Becky,
I want to thank you for re-sending my order and let you know how much I love my Silver Kitty Catseye accessories!
I had been unable to find all of them anywhere else — in stores OR online — and they only took a week or so to get here. Now I can't wait for my next trip so I can take them with me. :-) Thanks again,
Gayle Rickards
Bellevue, Washington, USA



4th June, 2016


Subject: Thank you for my Jellycats
Hi,
I made an order of Jellycat's soft toys.
I've gotten it a couple of days ago.
The Snowy bear was exactly which I had been looking for!
I love them.
I appreciate for your quick delivery and good value.
Best regards,
Kyoko Ui
iPhoneから送信



20th May, 2016


Subject: RE: Fleurtations Order Number:951394
Just to let you know that I have received the bashful lion at work today. Thank you so much for such excellent customer service!
Kind regards,
Caroline



19th March, 2015


Thank you
Foxy (Cordy Roy Fox) arrived today, speedy service, excellent product
Judith



18th March, 2015


Dear Diane,
Thank you so much!!
My daughter has fallen in love with Jellycat stuffed animals but I can't find any cute fabric ones here in the US.
I saw your web page and was amazed at the adorable bunnies you have!!
I hope it is OK that I have given your web page to my mom and friends so they can order as well? So excited!!
Thank you again,
Robyn and Kynley
USA



10th March, 2015


Hello
well my Jellycat Cottontail Huge Bashful Bunny came today, just one day after you sent it.
What speedy service. He's lovely.
The colours are so different, grey's, beige, golds, silver and cream. He's different colours all over and the fur is so silky soft just like a real rabbits fur.
He's also nice and big. Much bigger than the large sizes I have in beige and black and white. I love the Bashful rabbits.
When I opened the wrapping I said 'Wow he's gorgeous' and I had to cuddle him straight away.
I love the Jellycat range. They're so different and I've collected lots over the years.
Your store sells such a large range and is the cheapest I've seen.
So happy. Will definitely buy from you again
Thanks again
Jan Sorby x



6th February, 2015


Hello Diane
I've just called & paid for the Bambina puppy with your colleague.
Huge thanks to you, I feel like I've searched the 4 corners of the (online) world over the last few months so thank you for letting me know that you had one.
Exceptional customer service!!
Have a great weekend
Hx



2nd February, 2015


Thank you, Diane
I so appreciate your time. I'm thrilled to have found what items I have (Marie Antoinette Storage Tin and Carry Bag).
All the best and thanks again.
Victoria
California, USA



20th January, 2015


Huge bunny arrived this week. He's gorgeous and well worth the wait (he was still on the boat).
Thank you
Chrissie xxx



12th January, 2015


Yes we did! (receive the order)
Super thank you again! Will be ordering again soon.
Thanks
Gemma



2nd January, 2015


Hello Graeme
Thank you for the email.
The parcel arrived the following day.
The product is perfect and we're very happy with the service
Thank you again
Regards
Peter



20th December, 2014


Hi
I just wanted to say I ordered two little Jelly Cat ducks from you and they both arrived next day.
I am so grateful and pleased for the brilliant friendly service, thank you so much!
I will not hesitate to recommend your online shop to anyone!
Merry Xmas to you,
and thanks again,
Wendy



20th December, 2014


Diane
How can I thank you?
My parcel arrived and you have made my Christmas
Merry Christmas and a Happy New Year.
Karen



18th December, 2014


Diane,
Thanks for the fast delivery.
Merry Christmas and Happy New year.
Ying



17th December, 2014


Hi Diane,
The dragon arrived this morning, thanks, which is brilliant service!
Kind regards
Charles



3rd December, 2014


Thanks Diane, much appreciated. You have a great website. I've recommended it to friends! Do you have a Facebook page? (reply: yes we do)
Hayley



11th November, 2014


Thanks Diane
The order arrived today, am delighted with it.
The Christmas shopping is well under way now!
Regards
Susan



13th October, 2014


Thank you Diane
Such great customer service - and 'Dexter' is a definite hit.
All the best
Rachel



15th May, 2014


Thanks Diane for the prompt revert
Wu



25th March, 2014


I have my first Jellycat! :D Her name is Honeysuckle and she is a grey Fuddlewuddle bunny. SHE IS JUST SO SOFT!!!
Lydia (posted on the Jellycat Community page - Google +)



25th March, 2014


What a great choice of Jellycat toys! From a new fan 'Budding Gifts' who buys them for baby bouquets
Suzanne



6th February, 2014


Hi Diane
Just a little note to say the last part of my order arrived safely this morning.
Thank you very much for an excellent service.
This was the first time I have purchased from you and I found your jellycat products to be competitive and I would certainly recommend your goods and the service you provided very highly.
All good wishes
Sue



23rd January, 2014


Just wanted to let you know how pleased I was with my recent order.
I purchased four of each of the Jellycat Slackajack monkey, lion, and bunny for my grandchildren and they arrived in great order and quickly.
This was a pleasant surprise as I am in the United States and my prior experiences with shipping from the UK have been slow.
I have given four lovey's to each of my grandchildren when they are born. One for daily use, one for each grandma, and a back up, just in case.
The style I gave before is long gone so I'm stocking up! I just ordered four more to make sure I have plenty. Thanks for shipping to the US!
LaNell Strobot
USA



19th January, 2014


Dear Sir or Madam,
I am writing to thank you for your excellent service. I ordered two bears on Thursday evening and couldn't believe that they arrived on Saturday morning!
Having had some very frustrating internet service from other companies over Christmas I felt I wanted to say how pleasing it was to have such amazing customer service.
I will recommend you to any and everyone and I wish your business every success in the future. Yours sincerely,
Vicky Jenkins
Deputy Head (Academic)
Cheltenham College Preparatory School



12th December, 2013


Hi, just wanted to let you know my parcel arrived safely today, the rabbit (Bashful Bluebell Bunny) is absolutely wonderful and I am sure my mum will love him!
Thanks again for being so helpful and quick to respond to my emails.
Kind regards
Zeni



6th December, 2013


Afternoon Graeme
Order (Betsy Bunny Sleeptime and Poppet Bunny) received today and as gorgeous as ever.
I will have a happy little girl on Christmas morning.
Thanks again for taking the time to email me last night.
Kind regards
Cheryl



20th November, 2013


The (Jellycat Tiggalope) sheep arrived today. Thanks for the prompt shipment. We love it. We bought it for our second daughter due shortly.
Our first has the goat. Great products.
Matt Steffel
Boulder, USA.



19th November, 2013


Thank you,
have received them (Le Mouse x 2) brilliant service.
Rachel



14th November, 2013


Hello
I am writing to say how pleased I was to receive my order (Huge Bashful Cottontail Bunny) this morning, just the day after I placed the order!!!
I feel that I must congratulate you and your team on such wonderful service.
Regards
D.Strickland



2nd November, 2013


Good Morning,
Yesterday morning I ordered a Jellycat Elephant as a gift for our Grandson who is due to arrive on the 1st December.
I was totally amazed to receive the item this morning and would just like to thank you for you speedy and courteous service, its was am absolute pleasure doing business with you and may I wish you continued success.
Yours sincerely
Cherie Kirk (Mrs)



3rd October, 2013


I received the Vintage Elephant today and was very pleased with how adorable he is and I'm so excited that you were able to get him to me so quickly.
You have a true blue customer pleased in a way that only an 'elephant' will never forget.
Thank you
Cyndi M



28th September, 2013


Hi Graeme,
Further to our conversation, and your accommodating approach as to card security issues, I'm delighted to have received a substantial part of my order.
Your prompt despatch is a credit to your company.
Thanking you again for your excellent customer service, and assuring you I will be a returning customer.
Regards,
Tony



14th September, 2013


Dear Fleurtations
Just to say thank you for your prompt despatch and delivery of the above order (Jellycat Blossom Grey Mouse x 2)
It was a great surprise to receive the items the day after ordering - Well Done!!
Regards
Ian Perry



9th September, 2013


I am very pleased with my purchase (Jellycat Bashful Bunny) and the speed with which you sent it to me,
Thank you very much,
Robyn Kennedy (USA)



3rd August, 2013


My Order
Thank you so much for the quick delivery of 'Tiggalope Sheep' he is adorable!!!!
If any customers are looking for a beautiful soft toy I would recommend Tiggalope as he is absolutely gorgeous!!!
Also ordered the grey faced sheep to sit in my car xxx
Many thanks again
Karen



4th May, 2013


Hi,
I just want to say a huge thank you for the fantastic service. I placed an order 1pm Friday and recieved it 12:15pm on Saturday and that was with free postage, amazing.
Items were well packaged as well, so you obviously don't try to cut corners there.
I will recommend you to others and bookmark your site and will have no hesitation in using your services again.
A lot of companies could learn a lot from you.
Best wishes for the future and thank you
Norah Macphee (Isle of Lewis, Scotland)



14th April, 2013


Hi,
We recieved the (Skiffles) cat! It is perfect! Tuesday, we lost our sweet white 8-year old cat Tony due to illness.....I am 5 months pregnant and looked for a white sweet cat for the baby, looking like Tony and I found it at your store!
Thank you so much!
Kind Regards
Annemarie (The Netherlands)



21st March, 2013


Dear Diane,
The (Jellycat) Duckling came. Thank you for your attention, helping me with the order.
Regards
MCristina



16th February, 2013


The first package arrived today and was perfect, can't wait for the second.
That was such fast shipping and they were great prices.
I will be using you from now on for my Bashful Bunny needs! They are so hard to find, especially the special edition ones.
Abby



29th January, 2013


Hi
Just a quick email to say a huge thank you for my recent Jellycat order. I only placed the order yesterday and couldn't believe it when the postman handed me the parcel this morning!!! What amazing service.
I recently found out that there were two limited edition Jellycat bashful bunnies with the same names as my little girls (Maisie and Millie), who already adore anything Jellycat, and so I spent yesterday morning searching for places that sold them.
Most Jellycat stockists online didn't have them on their websites. Not only did you have stock of both rabbits, but you were also selling them at the lowest price, and with free delivery.
On top of that you managed to get them out to me in less than 24 hours.
Thank you, thank you, thank you.
Hannah Dodson



25th January, 2013


Hello
Just emailed to say the order arrived less than 24 hours later - thanks for such a speedy service and the goods are perfect.
Alison Rogers



9th January, 2013


Hi there
May I just say how impressed I was at the speed of my delivery (bunny keyring and big bunny)
Many thanks
Mrs Gilbert



29th December, 2012


Hello, just to say a very big thank you for the speed of delivery.
I love the Catseye range and they make great gifts. I have bought from your store a few times and have always been impressed.
I plan to keep popping back!
Many thanks
Jo



22nd September, 2012


Many many many thanks to all of you for my lovely Cat!!
I have got the parcel and my son is very happy!!!
Once more, thanks a lot!!
WBR
O Titov



13th July, 2012


Hello Fleurtations Staff
Allow me to say a few words of thanks to you - just recieved those three Truffles Sheep today.
They're awesome and so are your services and the fact that you ship worldwide. Thanks a lot!
Wish you all the best
Alex Popenkov
RUSSIA



12th June, 2012


Hi
I recieved the package
Thank you so much for your help my daughter now have 4 of them so she can loose one or two there will be no drama
Regards
David Guillet
FRANCE



11th April, 2012


Thank you so much for my order. I love the range and will be using your company in the future - an excellent and speedy service!
Regards,
Tracy J



30th March, 2012


I have been delighted with the services I have recieved from your company over the last few days.
One armadillo and one small rhino to complete my (grandfatherly) mission!
Long may your great service continue,
every good wish,
Chris



14th March, 2012


thankyou so much for my goods that i am really pleased with and also thankyou for your speedy delivery,
yours,
Mrs T Rolf



12th March, 2012


Hello, I've recieved the item. It is lovely, many thanks.



9th March, 2012


Many thanks. You're a reliable company to deal with, and I'll def buy my Jellycat off you in the future!



8th March, 2012


Thank you SO much for the quick delivery of this order, I was quite astonished when it arrived this morning after only
placing the order yesterday afternoon - our four month old son, Rory, is delighted with his new toy!



7th March, 2012


Many thanks,
I am amazed, I have just recieved this item in less than 24 hrs.
What fantastic service, I'm well imppressed
Denise D



1st March, 2012


Hi
Just wanted to say the teddy arrived today, thank you very much for a great service and keeping me updated.
Regards
James



24th February, 2012


Hello, My beautiful monkey arrived this morning! Fantasdtic service..thankyou...!



9th December, 2011


Hello
Yesterday I placed an order with you and I have recieved it today
This is the first time I have used your company and I just wanted to say thank you for the excellent service, the website was easy to use, the order arrived the following day and the items were excellent!
Thank you
Danielle R



10th October, 2011


Hello,
I want to thank you for very fast post delivery.
Our little girl is so happy, because she wanted the same kind (of soft toy) as the older sister's pink rabbit and the easiest way was to order the rabbit in your (online) store.
If someone is looking for Jellycat toys, I will recommend YOU!
Sincerely
Kaisu Lappalainen
Finland



14th September, 2011


Just a quick email to express how delighted I was with the super fast delivery of my order (Bunny Gallery Wash Bag, Owl Glasses Case and Kitty Face Wash Bag)
and the lovely quality of the items I recieved.
Brilliant!
Anna x
Sent from my Blackberry wireless device



5th September, 2011


I just wanted to thank you for how quickly and efficiently you processed my order - thank you
Sent from my (Alex) iphone



3rd September, 2011


I am just writing to thank you for such brilliant service. Bashful Chick arrived on the 2nd September, 2011.
This was an emergency!!! original chick was left in Lanzarote on 31st August and my Grandson would have been distraught if he had realised.
No way did I think that "Chicky" would arrive in time to save melt down!!!!!
Well done to you all
Many thanks
Maureen



11th August, 2011


Hi
Thank you for the speedy (Jellycat Slackajack) monkey delivery. Charlie loved the note and has taken Monkey to bed with him
Thanks Again
Charlie's Dad



17th July, 2011


Hi!
Thanks for the speedy delivery and good communication - the products (Jellycat Catseye zip purses) are lovely!
Thanks again
Hayley



15th July, 2011


Thank you so much for the quick turn around of my little girls "Heidi" (Jellycat Bashful Bunny) I only ordered it yesterday morning and it has arrived in this mornings post!!!!
She loves it and can't wait to take ot to bed!!!
Thanks again
Justine Cooper



25th June, 2011


Thank you so much for the fast shipping of the cute Furballs. My wife loves them, they're so soft and cuddly.
Happy regards
Rodadiwan (Netherlands)



6th May, 2011


Hi there,
Just to inform you that my little bunny (Blossom Cream Bashful Bunny) arrived safe and sound in good old South Africa (where things are known to go missing!!).
Thank you so much.
Warm regards
Jill Elliot



4th May, 2011


Hi, I just wanted to say how impressed I was with the speed of delivery and standard of service.
And, I like the (Jellycat Catseye) bag and purse too!
Many thanks
Jo Petite



29th April, 2011


Thank you very much for your kind message, I couldn't resist ordering this cute creature and I hope it will get here soon enough for the birthday of a little boy!
I really appreciate your assistance.
Have a nice weekend
With my best regards
Lel



12th April, 2011


Dear Fleurtations,
Four of the parcels have arrived. I am just sending you this to say that Matilda Hen is amongst them and I am so thrilled with her.
I have shown her to the cats - not impressed - and can't wait to show her to my children, four of them, when they come home from school.
She was supposed to be a present for them but now I'm not so sure! Sometimes you just can't let go.
Thanks again for your help with my order. You have given very good service and I'm sure to be back for more.
Kind regards
Diana Wilson,
Hobart, Australia



22nd March, 2011


Order recieved this morning (Large Truffles Highland Cow). Excellent service. Many thanks. (Order placed on the 21st March, recieved 22nd march)
Kate McCelland



6th March, 2011


Thank you for your fast shipping both bunnies arrived safely
Happy regards
Christa Jepsen (The Netherlands)



12th February, 2011


Items recieved super fast, packaging and presentation wonderful, in all totally impressed, a company that still cares about customer services these days!
Thanks, you've secured a customer in me X



4th February, 2011


Just to say a very big thank you.
An order placed yesterday (by my mum) has been recieved this morning....You have made her autistic grandson absolutely ecstatic.
He now has a Jellycat jaguar to add to his collection and his joy this morning was priceless.
Excellent customer service, (professional, friendly and polite) on both occaisions....and next day delivery as expected.
It has been a pleasure dealing with your company.
Regards
Doreen, Niki and Dominic



20th January, 2011


Hi,
Just to say that the Woolly Sheep Book arrived today - thank you for pursuing him!
I can't believe they are discontinuing him - he's great and I have bought 3 in total and the first two new mum's wouldn't have been without him!
Tomorrow Woolly will be off on a long journey to Perth, Australia to the 3rd new mum!
Thanks again for your efforts.
Kind regards
Nina



19th January, 2011


This email was forwarded to us (Fleurtations Nottingham) by Vicky at Jellycat, London
Dear Vicky (jellycat employee)
You simply have to hear this!!!
I took your advice and wrote to every retailer in the UK, Germany and the US, I could find.
At Fleurtations in Nottingham, I hit gold!
They have 2 "Littermates of Gris" (Rumble Tumble Pigs) and I have emailed them that we will take both.
This is really amazing.
Thank you so much for helping us locate this "breed" - it was just what did the trick.
Sincerely,
Pernille



14th January, 2011


Hi,
I ordered 2 Jellycat toys for delivery to a BFPO address on Wednesday afternoon and they arrived this morning (Friday) - amazing!
Thank you for a fantastic service - I have a very happy little girl!
Rachel



8th January, 2011


Thank you very much for your prompt turnaround of my order (Clara Floral Friends and Special Edition Didi and Bonnie Bashful Bunnies). I am so grateful.
Warm regards
Ali Plowright



22nd December, 2010


Thank you so much for processing my order so quickly - the elephant arrived this morning, in time for Christmas!
Many thanks again



9th December, 2010


Hi
Thank you for the lovely Shaggy Baggy monkey which arrived today - my daughter will love him!
Many thanks
Kindest Regartds
Sharon Tatham



26th November, 2010


Hi. just a quick email to say thanks for the prompt delivery of Cordy "Roy" Croc and Cordy "Roy" Dachshund. Both arrived safely this morning and are being well looked after until Christmas.
Many thanks again
Graham Johnson



10th November, 2010


Wow! What speedy service! Many thanks for the order - I shall certainly order with you again in the future
Yours
J. Coppola



2nd November, 2010


Just to thank you for your prompt and efficient service - the parcels arrived safely this morning and the "Trangle" kitten and mouse are delightful! A friend has just had twin daughters and they will be perfect Christmas gifts
Best Wishes
June



19th June, 2010


Dear Sirs,
I wanted to take this opportunity to thank you properly for the fantastic service that you provide. I ordered two Jellycat mice for my sister's baby and told her to expect them within 3 working days. She texted me the morning after I had placed the order to say that they had arrived and that she was really pleased with them. I was amazed at the speed of delivery and the fact that it was free of charge. My sister was so impressed that she has kept your "with compliments" slip so that she can order from you herself in the future.
Please pass on my thanks to your staff for doing such an excellent job - I will definitely be ordering from you again.
Yours sincerely
Karen Angus



15th May, 2010


Many thanks for the prompt service - Jellycat Dormouse arrived safely on Friday and very cute!
Jane Conquer

Just to let you know that Bunglie Bear has just arrived safely and is being cuddled by my daughter as I write. Thank you very very much for sending him so promptly - I have been looking for him for some time and was very worried he had gone out of production so was extremely relieved to find him still available on your site. Thanks again.
Nikki (a much relieved Mum) and Grace (a very contented girl !!!).



15th December, 2009


Dear Fleurtations
Many thanks for sending my Tweedle Bunny so promptly, it really was super service
Many thanks for your help - much appreciated



5th November, 2009


Hi,
Recieved the Scrumpty Bunny rabbit this morning and I am very pleased with it and also very pleased with your fast and efficient service.
Thanks ever so much.
Kind Regards
Jacqueline



15th October, 2009


Just to say thank you for the really speedy and fantastic service regarding Truffles Sheep, Penguin and Sheep sticky notes pads, much appreciated.
Louise Turnbull



25th August, 2009


Hello,
I just wannted to write and say the biggest thankyou to you all for the help with my order. I was devastated when I found out that the Jellycat Bashful bear was being discontinued, I wrote to so many places asking for their help, and no one replied, then I wrote to you and you were just so helpfull and tracked 2 down for me. I really appreciate all the trouble you must have gone to. When I rang the lady was so helpfull on the phone and then they rang to let me know that the bears were on their way, they were sent on Monday and I recieved them on Tuesday, such fast delivery. I can't tell you how happy I felt when I opened the package, that after months of searching I finally have 2 spares for my son.,
I will definitely be recommending you to all my friends and when we buy our son another jellycat toy either Tweedle mouse or Merryday tiger it will be from you, without a doubt.
Thanks so much
Best Wishes
Vee Smith and son (2 yrs)



22nd April, 2009


Just a quick thankyou for your prompt service. I ordered a Special Edition Woolly Mammoth late Monday afternoon and it has arrived this morning (Tuesday).
Thanks again
Liz



19th March, 2009


I visited Fleurtations around 3 months ago and on impulse bought a cute little bunny from the jellycat range for my 3 year old. The staff were great and the range of toys and teddies was huge. Since then she has not let her new friend leave her side and has named him 'bun-bun' I dread the day that 'bun-bun' goes missing but I know that I can easily get a replacement from the helpful staff at fleurtations - they even promised they could post one to me if I needed it urgently! Thanks for making my little girls bedtimes more peaceful Michelle x



11th February, 2009


Dear Fleurtations
Many thanks for sending my Jellycat Tweedle Bunny so promptly, it really was super service
Many thanks for your help - much appreciated.
Jan Lowe



12th January, 2009


With reference to my order 29306 for a Huge Piper Elephant to Cumbria I would like to say how amazed I was to recieve the toy so quickly - thank you very much for your fantastic level of service
Vicci