Onya Tote Bags
Onya is an Australian company that prides itself on creating high quality, useful, reusable products for your everyday life that can easily be kept 'On You'.
From reusable tote bags, shopping bags, produce bags & coffee cups, to one of the highest quality stainless steel drink bottle ranges.
All 100% recyclable, the bags and totes are made using recycled plastic water bottles.
Onya's goal is to offer a well thought out quality alternative to single use plastic
Their moto is 'Why wait for tomorrow when you can make a difference today?'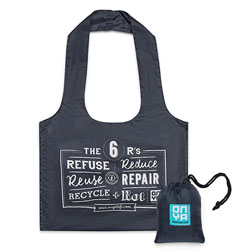 ON-TBC
Tote Bag Charcoal
Size: 30 x 40 x 24 cm
Holds up to 10kg/22lb
Very Light Extremely Strong
Free Delivery UK Orders Over £20
ON-TBA
Tote Bag Aqua
Size: 30 x 40 x 24 cm
Holds up to 10kg/22lb
Very Light Extremely Strong
Free Delivery UK Orders Over £20